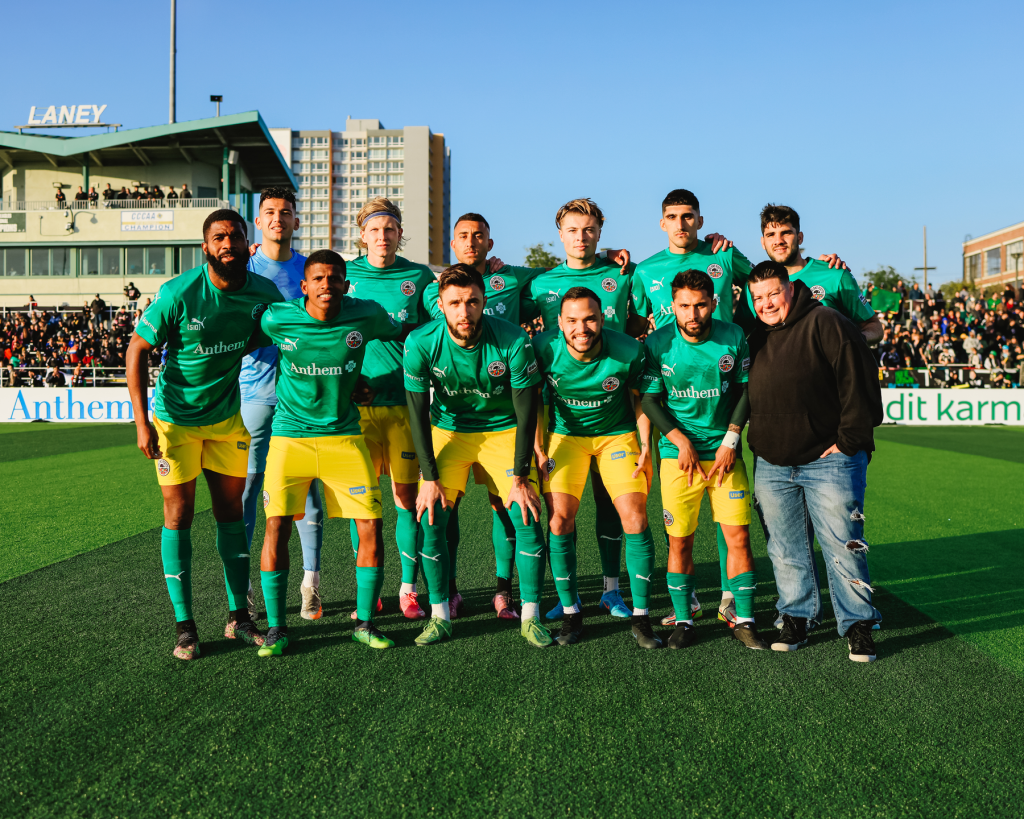 Despite a number of premium scoring chances, Oakland could not solve Colorado Springs goalkeeper Jeff Caldwell, as Roots fell 3-0 to the Switchbacks on Saturday night.
Roots faced heavy pressure in the first 20 minutes of the match, but eventually adjusted to the high press defense of Colorado Springs, leading to a Penalty Kick for Oakland in the 30th minute which was taken by Ottar Magnus Karlsson, but ultimately denied by the Switchbacks keeper.
Roots controlled possession throughout most of the contest, but two key defensive lapses in the second half led to Switchbacks goals in the 56th and 70th minutes. Colorado Springs sealed the win with a goal as added time expired.
Oakland Roots will head on the road for matches against Orange County SC and Las Vegas Lights FC before returning home to face LA Galaxy II at Laney College Stadium on May 21st.
Talking to Head Coach Juan Guerra
Give us your initial takeaways.
Juan Guerra: This sport when you're playing well, we don't put the ball in the back of the net, it doesn't matter. You've got to make sure we are taking the license we have for creating enough chances to win games. We are just not putting the ball in the back of the net enough. At the end of the day, I don't think this is about heart. This is not about character. This is just a bit about that final product of putting the ball in the back of the net. The team keeps playing well. Our north is clear. Ideas are not going to shift. The coaching staff, the players are committed. We're gonna keep pushing forward.
The last two games, one thing I noticed is you guys are creating your own opportunities. But, you know, finishing touches just inches away. Talk about how the offense is creating, and what you pull from this game?
Juan Guerra: We played a very good team tonight. Colorado is a very good team, they're not first place by coincidence, their front three are very fast, dynamic and athletic. The way we worked on the week, we were able to take away spaces that they couldn't exploit until the 65th/70th minute, but then it opened up a bit more. By that time, we should have been up at least two or three – zero. Like I said, I think the boys are absorbing well what we want. Our idea and identity is clear. And we're creating chances. It's just a matter of time, and a matter of putting the ball in the back of the net. And again, nobody likes losing. The boys are gonna walk in there and they're devastated right now. But I'll protect each one of them. And like I said, at the end of the day, we need to keep pushing forward.
Oakland Roots SC vs Colorado Springs Switchbacks
USL Championship | April 30, 2022
Venue: Laney College, Oakland, California
Kickoff: 7:00 PM PT
Weather: 60 degrees, clear
SCORELINE:
OAK: 0
BECAUSE: 3
SCORING SUMMARY:
COS: 57' Zach Zandi
COS: 70' Michee Ngalina
COS: 90+4' Hadji Barry
DISCIPLINE SUMMARY:
OAK: 11' Charlie Dennis (yellow card)
OAK: 18' José Hernández (yellow card)
COS: 41' Cam Lindley (yellow card)
COS: 42' Jimmy Ockford (yellow card)
COS: 72' Zach Zandi (yellow card)
OAK: 74' Danny Barbir (yellow card)
OAKLAND ROOTS LINEUP: Benny Diaz, Tarek Morad, Alejandro Fuenmayor, Danny Barbir (Johnny Rodriguez), Juan Azocar, Edgardo Rito, Joseph Nane, José Hernández, Charlie Dennis (Jesús Enríquez), Óttar Magnús Karlsson
Unused subs: Max Ornstil, Emrah Klimenta, Memo Diaz, Taylor Bailey, Mikael Johnsen
Shots: 10 | Shots On Goal: 5 | Corner Kicks: 9 | Fouls: 21 | Offside: 1 |
COLORADO SPRINGS SWITCHBACKS LINEUP: Jeff Caldwell, Isaiah Foster (Elvis Amoh), Triston Hodge, Matt Mahoney, Jimmy Ockford, Malik Johnson (Issa Rayyan), Beverly Makangila, Cam Lindley, Zach Zandi (Kharlton Belmar) , Hadji Barry, Michee Ngalina (Stevie Echevarria)
Unused subs: Christian Herrera, Tobi Adewole, Yesin Van Der Pluijm
Shots: 10 | Shots On Goal: 4 | Corner Kicks: 2 | Fouls: 14 | Offside: 3 |