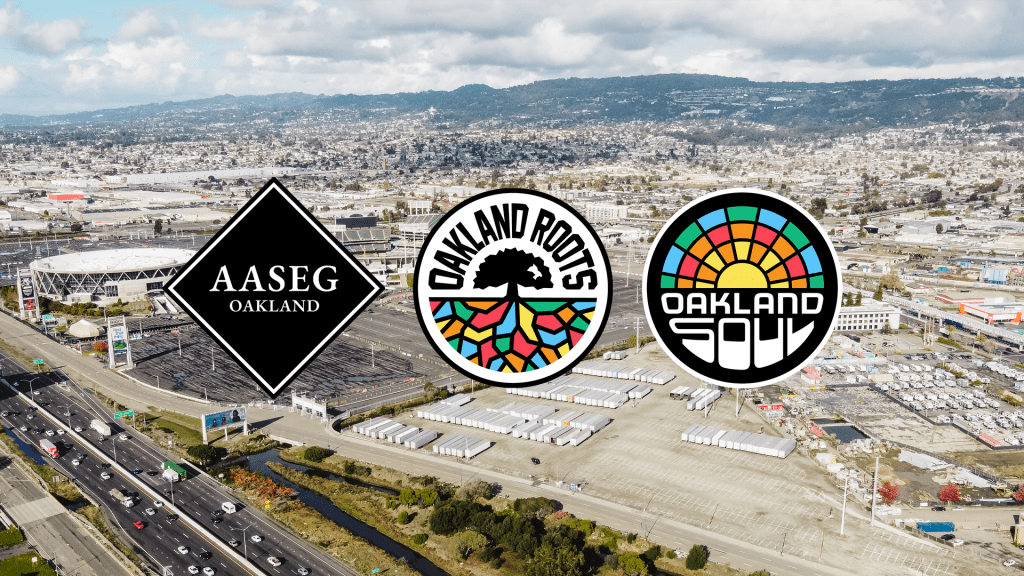 The African American Sports & Entertainment Group (AASEG) and Oakland Roots and Soul Sports Club announced today they have entered into a cooperation agreement. The agreement defines the organizations' intent to collaborate to achieve both short-term and long-term outcomes that will be of benefit to the Oakland community in general and to the East Oakland community in particular.
"This is an exciting moment in Oakland's history," said Oakland Mayor, Sheng Thao. "The African American Sports & Entertainment Group represents the largest development opportunity for an African-American led group in Oakland. In just a few short years, Oakland Roots and Soul Sports Club have become a beloved institution not only in Oakland but throughout the nation. We look forward to supporting these great institutions in their efforts to bring joy and more opportunity to our community."
AASEG has executed an Exclusive Negotiation Agreement (ENA) with the City of Oakland for the purposes of purchasing the City's interest in the Oakland Coliseum and redeveloping it as a mixed-use, mixed-income, sports-anchored community. Oakland Roots and Soul Sports Club recently submitted a proposal to the City of Oakland and Alameda County to lease, on an interim basis, the adjacent Malibu site located at 8000 S. Coliseum Way. If accepted by the City of Oakland and Alameda County (as co-owners), this proposal would allow Oakland Roots and Soul to construct a temporary modular stadium in order to play home matches at the Malibu site, on an interim basis, until a permanent stadium solution is achieved. In order to provide AASEG with maximum flexibility to execute its future plans, the two organizations have come together to align efforts.
"The AASEG is committed to revitalizing East Oakland through our vision of redevelopment, while also using sports and entertainment as a vehicle for economic growth and empowerment," said AASEG's Ray Bobbitt. "We are grateful to Councilmember Rebecca Kaplan for her leadership in authoring the council resolution that led to our agreement with the City, and for her continued vision for growth in and around the Coliseum site. We are also excited to work on this transformational Coliseum development with Councilmember Jenkins of District 6 where the Coliseum resides, as well as in his new role on the JPA. We appreciate the Roots and Soul's commitment to work together with the AASEG to ensure that development at the Coliseum site will occur effectively and soon. The Roots and Soul's plan for soccer and community presence around the Coliseum area is an exciting first step in continuing the legacy of professional sports at this historic site."
"We are very excited to announce this agreement with AASEG," said Oakland Roots and Soul SC President, Lindsay Barenz. "With Oakland Roots now into our fifth year and our women's team launching this month, we're excited at the potential of what we can do together with AASEG for the future of professional sports in Oakland."
About the African American Sports and Entertainment Group
The AASEG (African American Sports & Entertainment Group) was founded in 2020 with the primary purpose of using the vehicle of sports and entertainment to create a path for enhanced economic equity and empowerment for the Black community. AASEG was founded in Oakland CA, a city that is world renowned for having a large, innovative, and forward thinking African American community that for decades has been at the forefront of issues pertinent to Black people across the country. The development will serve as the catalyst for the implementation of the Coliseum Site Specific Plan.
About Oakland Roots and Soul Sports Club
Oakland Roots is the first, purpose-driven pro soccer team in the USA that seeks 'to harness the magic of Oakland and the power of sports as a social force for good'. Competing in the national USL Championship, the team has amassed a passionate local fanbase thanks to its community-first approach, including co-owner and Oakland sports legend Marshawn Lynch.
Premiering in spring 2023, the Oakland Soul women's soccer team will serve as an elite pathway to pro soccer for local women and girls, providing a high-quality training environment while empowering players. Once the club secures its own stadium, Oakland Soul will become The Town's first, fully-professional women's soccer team.
Interim Stadium Feedback – Malibu Lot