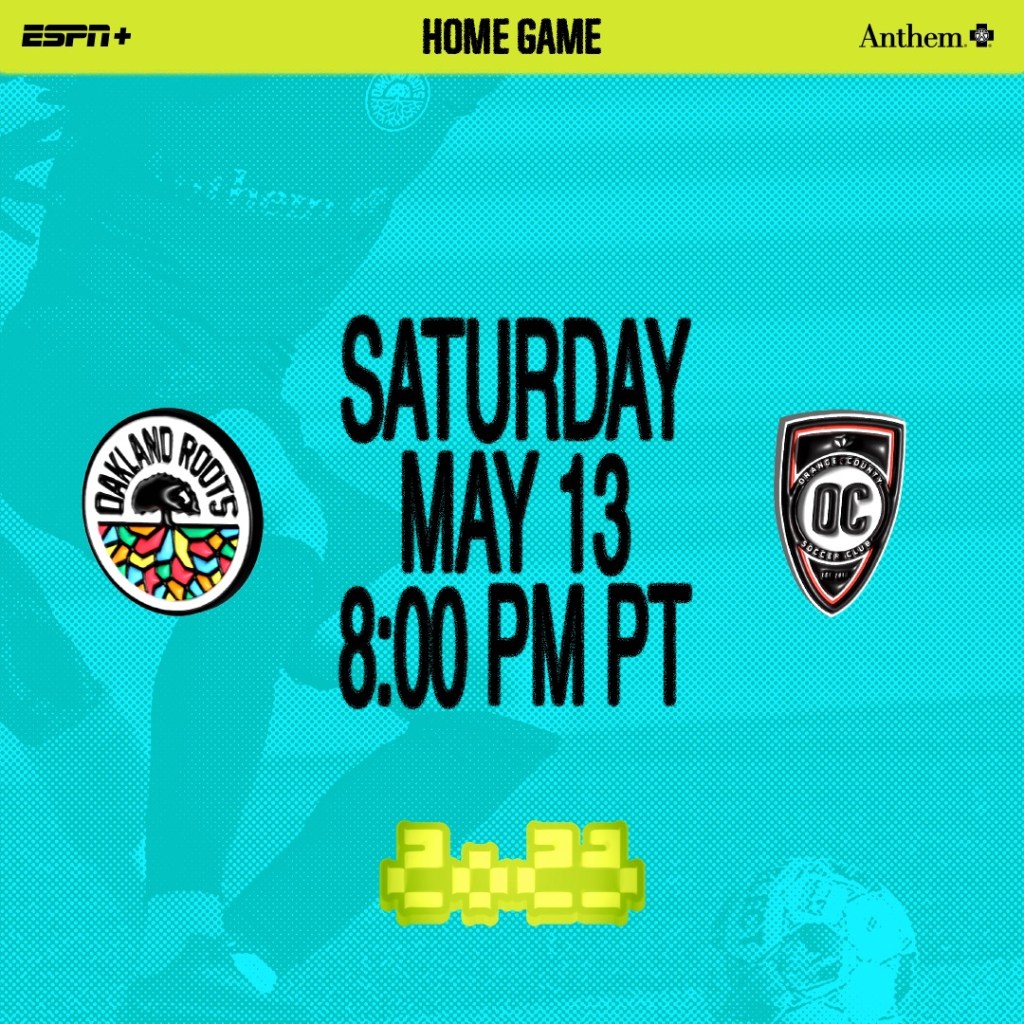 Oakland Roots and Soul Sports Club will host a historic doubleheader this Saturday at Cal State East Bay. Oakland Soul SC will play in front of the home crowd for the first time in team history. The women are coming off of their first-ever win this last Saturday as they beat Stockton Cargo 3-2 on the road. Oakland Roots is coming into the game on the backs of a big 4-1 win on Saturday away at Birmingham. This will be the 8th time Oakland Roots and Orange County SC face off in the last three seasons including playoffs. 
Quick Look:
Date: May 13, 2023
Time:
Oakland Soul kickoff – 5:00 PM PT
Oakland Roots kickoff – 8:00 PM PT
Location: Cal State University, East Bay, Hayward, California.
Gates:
4:00 PM PT for all ticket holders
---
What to expect at CSU, East Bay
Parking Information:
Free parking will be available in Lot A and Lot B. Field Seat Members will have reserved parking in Lot A. Overflow Parking will also be available in Lots K, H, and G on CSU, East Bay campus. We want to inform you about some temporary changes to the traffic flow at CSU, East Bay due to Graduation ceremonies:
Entry Point: Fans are kindly requested to enter the campus from Carlos Bee Blvd. Please follow the signs and directions provided to guide you to the designated parking areas (Lot A, Lot B and Overflow Parking).
Exit Point: All vehicles will exit from Harder Rd. Please follow the signs and directions to safely exit the campus.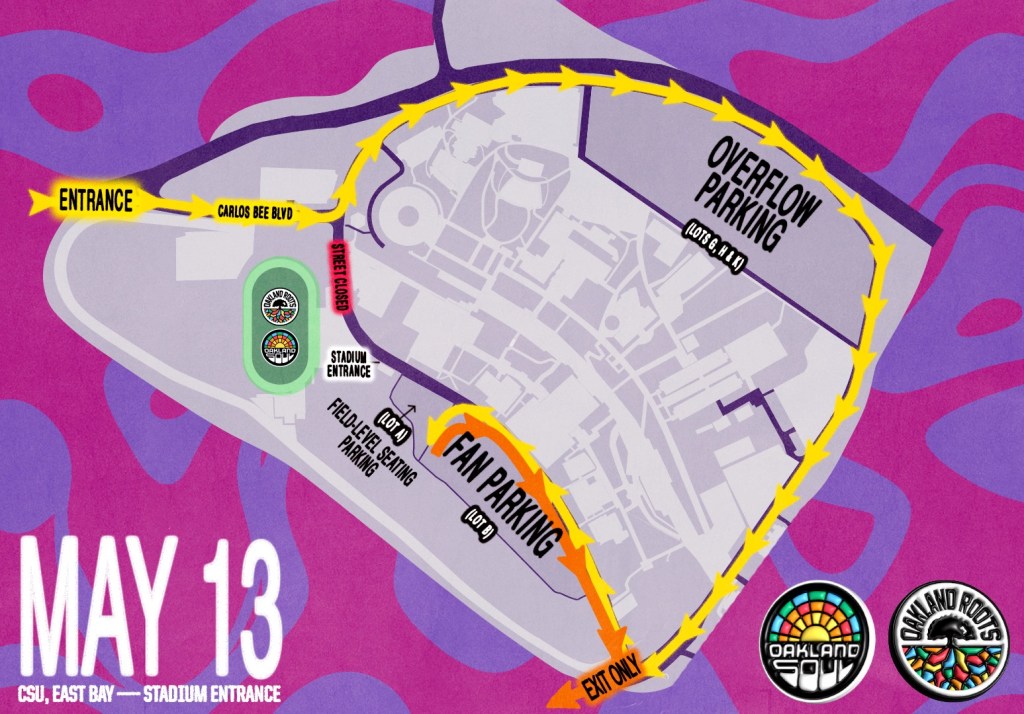 Please review the map above for further detail, and remember to not leave any valuables in your car while unattended.
To provide the community with the ability to travel more frequently between BART and CSU, East Bay, AC Transit provides service on the #60 bus from South Hayward BART to CSUEB. Find out more information on the AC Transit #60 Schedule.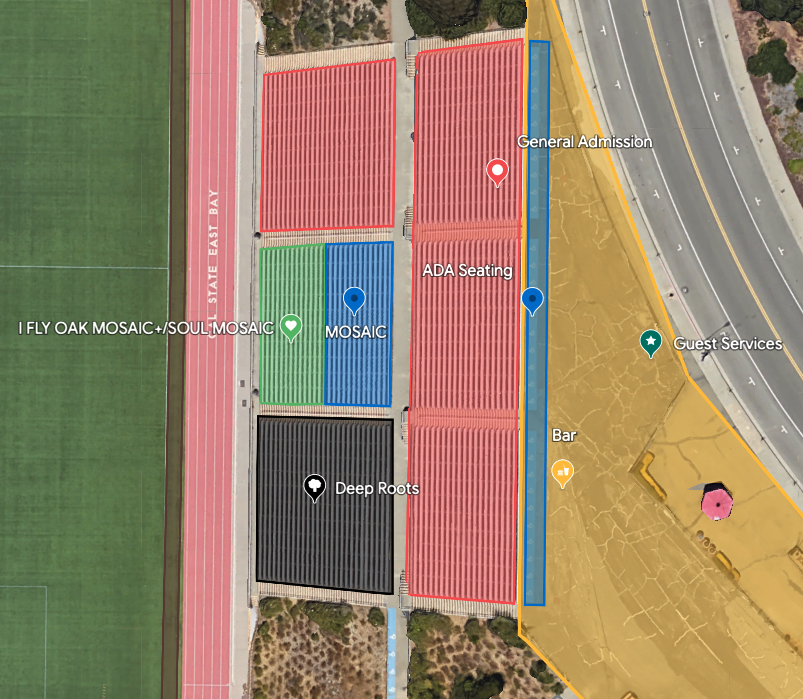 Stadium Seating:
All ticket sections will be upheld during this event at CSU, East Bay. Please review the new Stadium Map to see where your seats are. Please note that GA, Mosaic, and I FLY OAK Mosaic+ seats are not reserved. Fans holding tickets for Oakland Roots Mosaic+ and Oakland Soul Mosaic can come together and enjoy the game from the same section. All seats are first come first serve within each section.
Stadium Entrance:
The entrance into Pioneer Stadium will be on the North side of parking lot A.
There will be drinks, including alcoholic beverages, available for purchase. Click the link below to view the bar menu.
---
Clear Bag Policy:
One large clear bag – either a one-gallon Ziploc style bag or 14″ x 6″ x 14″ clear bag is acceptable. Small clutches 4.6" x 6.5" x 2" or smaller are also allowed.
Water Bottle Policy: *POLICY HAS BEEN CHANGED AS OF APRIL 3, 2023*
One manufacturer-sealed plastic water bottle is allowed in the stadium. No personal water bottles, glass bottles, or outside beverages are allowed in the stadium.
---
Manage Tickets:
You will be able to access and manage your tickets digitally through your online account and/or the Official Oakland Roots Mobile App. Keeping fan safety in mind, we encourage all guests to view tickets, transfer, donate, and/or exchange tickets through the Oakland Roots Mobile App. Please refer to our mobile ticketing guide for helpful information. We also encourage fans to print their tickets ahead of the game or download them onto your phone prior to arriving at the venue.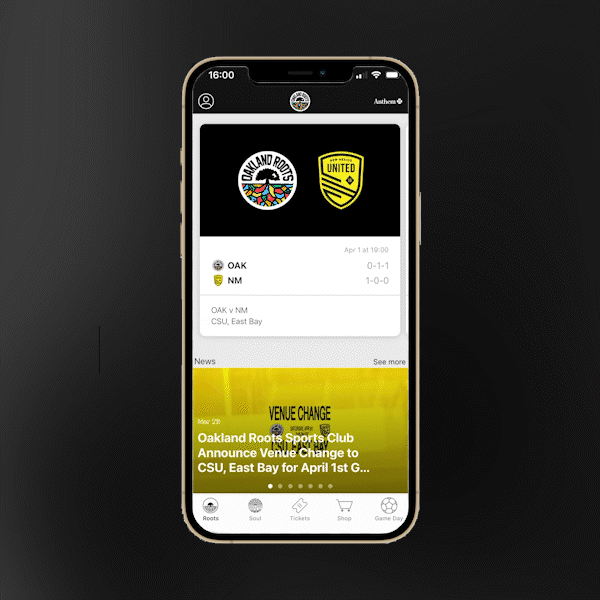 Download the Official Oakland Roots App!
Turn on location services and push notifications to receive in-game messages all night long. Check-in to this game and receive an exclusive discount at the end of the night. Visit the app store and download the app now.
Food Trucks at the Game
| | |
| --- | --- |
| The Chairman | Curry Up Now (Vegan Option) |
| Rincon Del Cielo | Respectable Bird |
GET TICKETS BEFORE IT'S TOO LATE