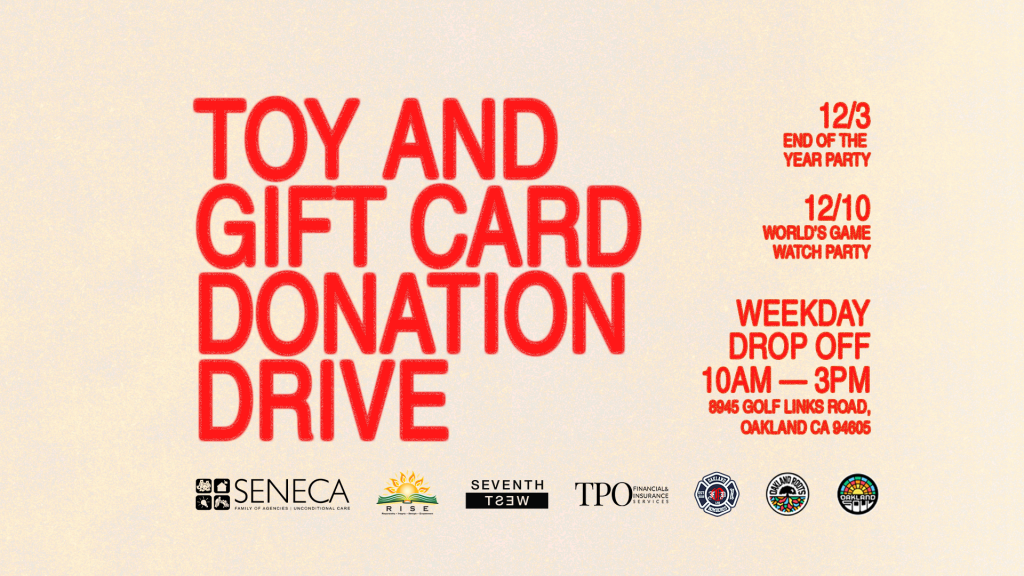 Oakland Roots and Oakland Soul announce 3rd Annual Holiday Drive alongside multiple Oakland organizations including TPO Financial Services, 7th West, Oakland Fire Department's Los Bomberos de Oakland and R.I.S.E. Youth all in support of SENECA Family Agency. The drive begins on November 23rd and runs through December 20th, 2022. 
During the 2020 holidays, a coalition of Oakland Roots friends and supporters saw an increase of need from our community. COVID-19 created more challenges for everyone, including our foster care youth and their families. For decades, SENECA Services has provided services for our kids, teens and their families. We are continuing the tradition by asking the community to consider joining us as we collect gift cards for our teens and toys for our at promise youth. 
"Our youth are at the center of our causes, everything that we do is inspired by them and everything we hope to build is in support of them," said Community Engagement Director, Karen Gonzalez. "We admire SENECA and their dedication to their clients, and are deeply humbled to continue to support their mission any way we can".
Drop-off locations:
SENECA Offices 



8945 Golf Links Road, Oakland CA 94605 (Mon-Fri 10 AM – 3 PM, excluding Thanksgiving day)  

Upcoming Oakland Roots Events:


*60% of the needs are for teens.  Please consider donating the gift of choice by gifting gift cards