Oakland Roots is fully committed to providing the very best access and the very best experience for our disabled guests attending our games.
---
ACCESSIBLE SEATING & PARKING
Accessible Seating Areas are available at the field level for Field Seat Ticket Holders, mid-grandstand for Mosaic Ticket Holders, and at the top of the grandstand for General Admission Ticket Holders.
Field Level ADA parking is available in Parking Lot O. Access to Parking Lot O can be arranged via the ticketing department in advance of the game. The Mosaic ADA seating section is accessible via ADA Parking in Lot N. Access to Parking Lot N can be arranged via the ticketing department in advance of the game. The GA ADA seating section is accessible by parking in Lot A and Lot B and entering via the main entrance. The club also operates a shuttle to facilitate ADA access to the Field Level. The shuttle is accessible at the main entrance.
---
ADA ASSISTANTS
We are dedicated to helping guests with special assistance during all Roots games. This service is free of charge. We provide assistance to our guests in the following ways:
Wheelchair escorts from the entry gates to the seating sections
Transportation assistance for the visually impaired
Anyone who needs assistance or guidance.
Elderly, disabled, or pregnant fans can use this service by asking any staff member.
ADA Shuttle Pick Up & Drop Off Locations
Main Parking lot
Parking Lot O
---
CONCESSIONS
Assistance with concessions is available at the customer service booth on the main concourse.
---
DIETARY RESTRICTIONS
We allow all guests to bring in food and beverages as long as they are within the posted stadium guidelines and the Club's Code of Conduct.
---
DROP-OFF/PICK OFF AREAS
Guests who wish to drop off and pick up their guests can do so in Lot M.
---
EMERGENCY EVACUATIONS
In the event of an emergency evacuation, guests should remain calm and listen to the PA or nearest event supervisor for instructions and directions. Guests should proceed to the nearest exit, or make their way to the playing field, as necessary. Roots Team personnel are available to assist guests with disabilities and limited mobility.
---
ENTRY AND CARRY-IN POLICY
All entrance gates are ADA accessible.
Pioneer Stadium is a No Re-Entry facility.
Guests who exit the stadium and wish to return will need a new, un-scanned game ticket to re-enter. We do make exceptions for guests who need to return to their vehicle for medical supplies and needs. Guests who qualify should speak to a member of security who will facilitate re-entry.The Club's Code of Conduct is enforced as all entry points.
---
FIRST AID
First Aid is located on the main concourse.
---
PUBLIC TRANSPORTATION
To provide the community with the ability to travel more frequently between BART and CSU, East Bay, AC Transit provides service on the #60 bus from South Hayward BART to CSU, East Bay. Find out more information on the AC Transit #60 Schedule.
---
RESTROOMS/FAMILY RESTROOMS
Accessible restrooms are available on the main concourse and field level seating area.
---
SERVICE ANIMALS
Service animals are welcome. Animals in training are also allowed. We do not have a designated pet relief area but staff are happy to identify a safe area. Animals should remain by the side of the owner and on a leash unless off leash is needed for a medical reason.
---
STADIUM SEATING CHART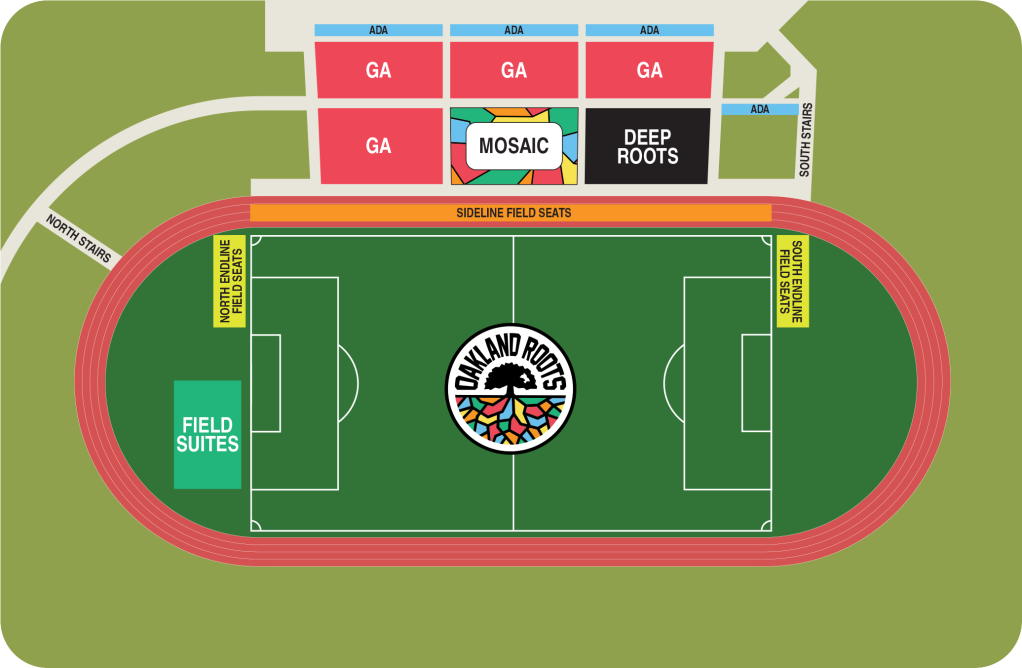 ---
COMMENTS/SUGGESTIONS/QUESTIONS
Oakland Roots is committed to making sure that guests with disabilities are able to enjoy all aspects of their visit to a Roots home game. Should there be any questions or concerns regarding our facilities, procedures or recommendations to improve the experience for our disabled guests, contact us at info@rootssc.com.