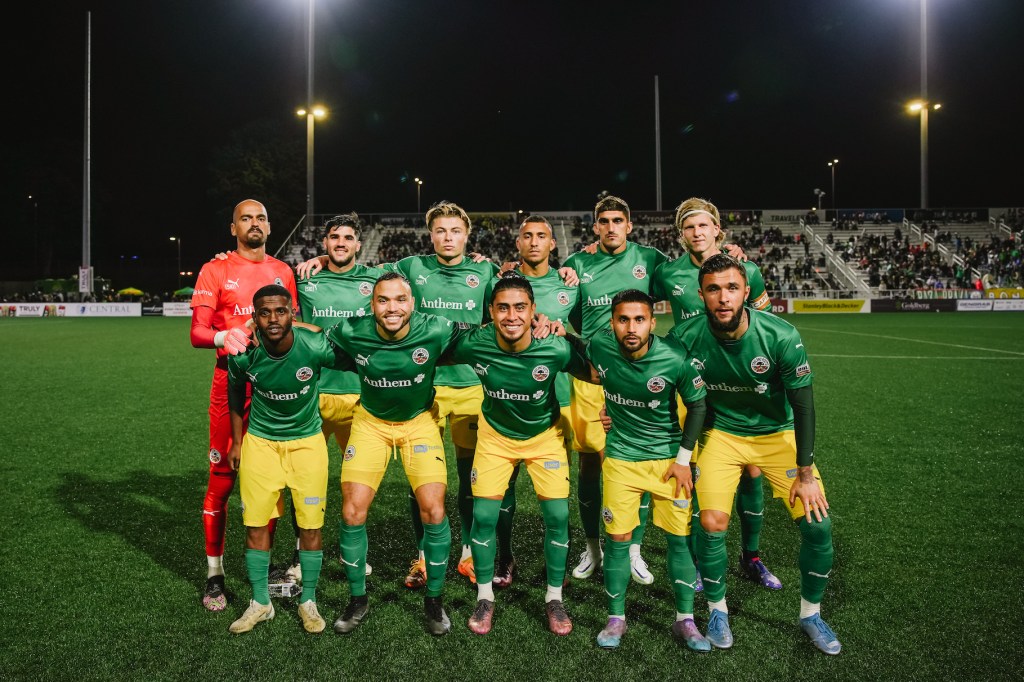 Oakland came out hot with a chance inside the first minute. That was followed quickly by the opening goal of the match when Juan Azócar hit the back of the net in the 4th minute for his 9th goal of the season to give Roots the 1-0 lead. Following the early Roots pressure and advantage, the game balanced out through the first half hour. Late in the half Óttar Magnús Karlsson created a half chance and a corner for Oakland but there were no other major chances for either side as the half ended with Roots in the lead.
Hartford struck early in the second half to level the game when Tulu powered it home past Paul Blanchette in the Oakland net to level the game at 1-1. Following the substitution of Edgardo Rito, Oakland Roots struck back in the 59th minute when the teams all time leading scorer, Óttar Magnús Karlsson converted for his 19th goal of the season. Azocar had a chance to put the game to bed with 15 minutes left and hit it hard and wide with an empty net as Oakland clinged to the 2-1 lead. Noah Delgado subbed on Johnny Rodriguiez late in the game who scored from long distance on his first touch to give Roots the 3-1 victory in the end.
Oakland now heads to Pittsburgh for the last regular season game of the season, kick off at 4:00 PM PT.
Oakland Roots SC vs Hartford Athletic
USL Championship | October 8, 2022
Venue: Trinity Health Stadium, Hartford, Connecticut
Kickoff: 4:00 PM PT
Weather: 53 degrees, clear
SCORELINE:
HFD: 1
OAK: 3
SCORING SUMMARY:
OAK: 4' Juan Azócar
HFD: 48' Tulu
OAK: 59' Óttar Magnús Karlsson
OAK: 90′ Johnny Rodriguez
DISCIPLINE SUMMARY:
HFD: 17' Ash Apollon (yellow card)
OAK: 45' Juan Azócar (yellow card)
HFD: 61' Ariel Martinez (yellow card)
HDF: 72' Joel Johnson (yellow card)
OAKLAND ROOTS LINEUP: Paul Blanchette, Danny Barbir, Alejandro Fuenmayor, Tarek Morad, Memo Diaz, Charlie Dennis, José Hernández, Juan Azócar (Emrah Klimenta), Lindo Mfeka (Joseph Nane), Darek Formella (Edgardo Rito), Óttar Magnús Karlsson (Johnny Rodriguez)
Unused subs: Matias Fissore, Jesús Enríquez, Taylor Bailey
Shots: 16 | Shots On Goal: 5 | Corner Kicks: 2 | Fouls: 10 | Offside: 0 |
HARTFORD ATHLETIC LINEUP: Uoines Boundadi, Tulu, Ariel Martinez, Prince Saydee, Juan Carlos Obregon (Connor Mcglynn), Danny Barrera, Yannik Oettl, Ash Apollon, Modou Jadama, Joel Johnson, Andre Lewis (Luka Prpa)
Unused subs: Mitchell Curry, Rashawn Dally, Jeciel Cedeno, Robin Lapert, Jimmy Slayton
Shots: 13 | Shots On Goal: 3 | Corner Kicks: 5 | Fouls: 11 | Offside: 2 |