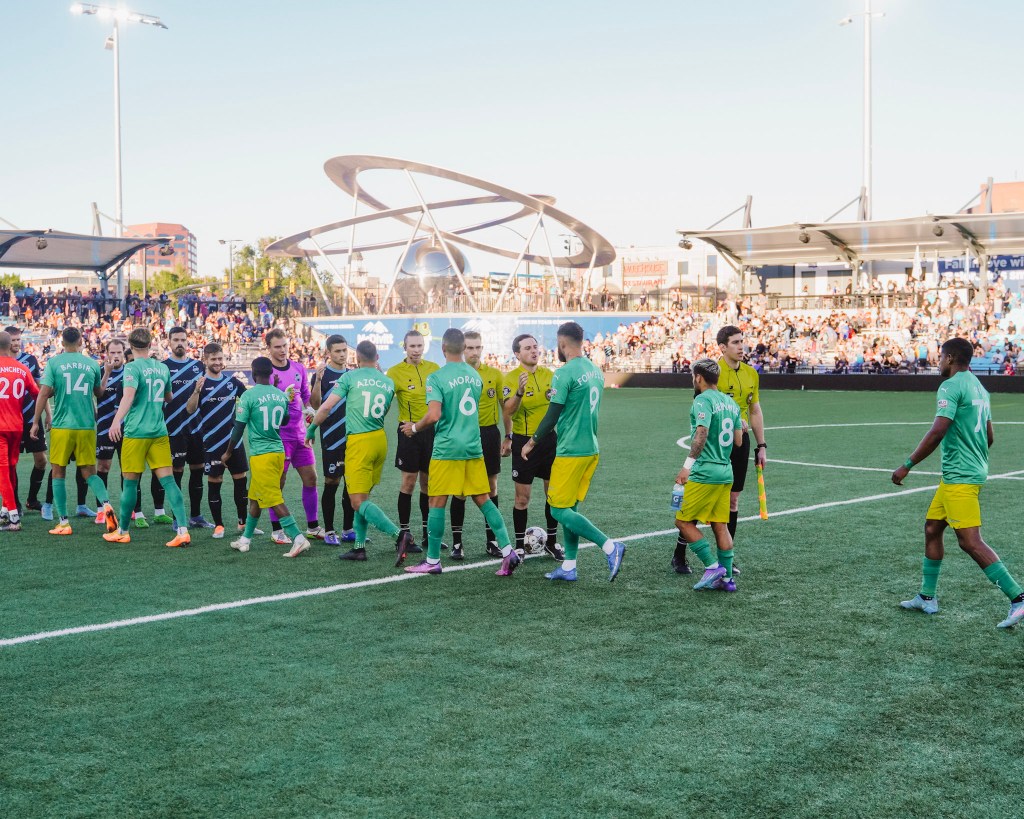 Oakland Roots found themselves on the backfoot early when Elvis Amoh hit Oakland for their mistakes in the first minute of the game to give Colorado Springs Switchbacks the 1-0 lead. Oakland battled back into the game, but earned two early yellow cards inside of 15 minutes for the effort. Oakland built momentum with sustained possession with the best chance coming through a Lindo Mfeka strike that just went over the bar in the 40th minute. Oakland however, despite the fight, went into the half down by one through the early Colorado goal.
Oakland got the first chance of the second half from a free kick just on the edge of the box. Óttar Magnús Karlsson took the free kick which Elvis Amoh blocked with his hand earning his second yellow card and giving Roots the penalty kick in the process. Óttar Magnús Karlsson stepped up to score the penalty and level the match through his 17th goal of the year. Colorado Springs looked comfortable for the first spell after the sending off with the slightly better possession up until 20 minutes to go. Oakland mounted the pressure but could not find the goal to win the match as they settled for just a point.
Roots return to Laney for their home finale as they host Birgmingham Legion FC at Laney College on Saturday October 1st, 7:00 pm kickoff.
Oakland Roots SC vs Colorado Springs Switchbacks
USL Championship | September 24, 2022
Venue: Weider Field, Colorado Springs, Colorado
Kickoff: 5:00 PM PT
Weather: 78 degrees, sunny
SCORELINE:
COS: 1
PAK: 1
SCORING SUMMARY:
COS: 1' Elvis Amoh
OAK: 57' Óttar Magnús Karlsson
DISCIPLINE SUMMARY:
OAK: 8' Alejandro Fuenmayor (yellow card)
OAK: 15' Lindo Mfeka (yellow card)
OAK: 45' José Hernández (yellow card)
COS: 45' Tristan Hodge (yellow card)
OAK: 47' Edgardo Rito (yellow card)
COS: 54' Elvis Amoh (yellow card)
COS: 55' Elvis Amoh (2nd yellow card)
COS: 58' Steven Echeverria (yellow card)
OAKLAND ROOTS LINEUP: Paul Blanchette, Danny Barbir, Alejandro Fuenmayor, Tarek Morad, Edgardo Rito (Jesús Enríquez), Charlie Dennis, José Hernández, Juan Azócar (Johnny Rodriguez), Lindo Mfeka (Memo Diaz), Darek Formella, (Mikael Johnsen), Óttar Magnús Karlsson
Unused subs: Joseph Nane, Emrah Klimenta, Taylor Bailey
Shots: 18 | Shots On Goal: 2 | Corner Kicks: 8 | Fouls: 14 | Offside: 2 |
COLORADO SPRINGS SWITCHBACKS FC LINEUP: Jeff Caldwell, Mahoney, Erdmann (Hodge), Edwards, King (Zandi), Anderson, Lindley, Echeverria, Amoh, Wheeler (Belmar), Ngalina
Unused subs: Herrera, Makangila, Rayyan
Shots: 11 | Shots On Goal: 3 | Corner Kicks: 4 | Fouls: 9 | Offside: 1 |