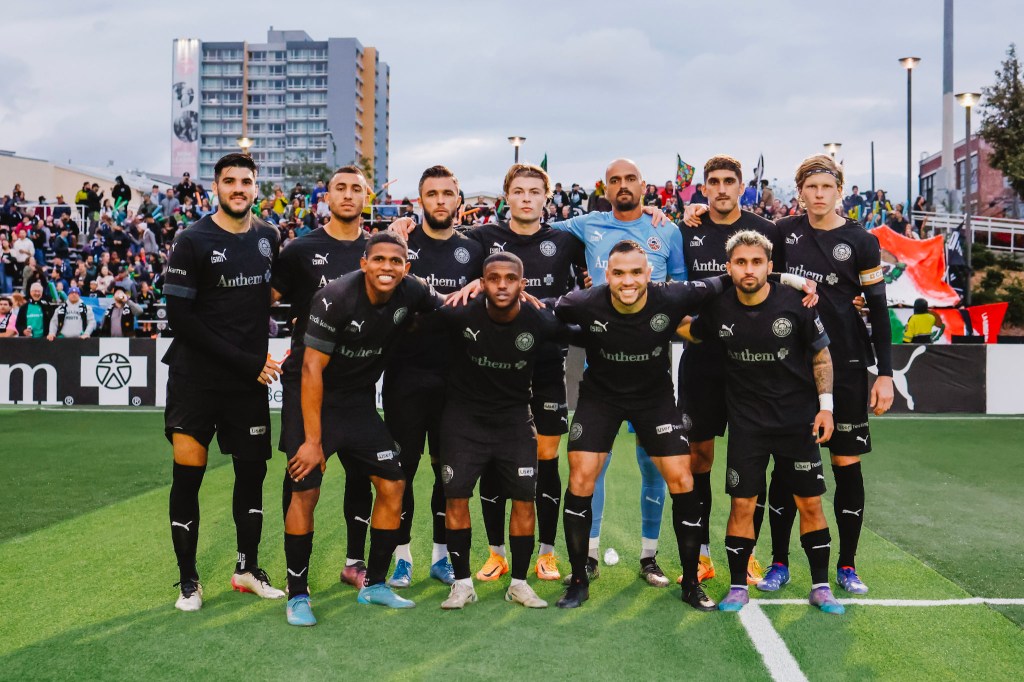 In their first meeting ever, Oakland Roots narrowly defeated a New York Red Bulls II side that had an average age of 20-years-old in its starting XI. The first half began after a celebration of 'Conoce Tus Raíces' Night with Oakland taking charge and laying gloves on New York early and often; still in the playoff hunt with only four games left, Oakland needed three points and the sellout crowd ushered them forward.
The Red Bulls' defensive line held strong through the first half and deep into the second but did not muster a meaningful offensive chance. Roots, meanwhile, continued to press' Lindo Mfeka had an effort saved in the 53rd minute and all-time Roots goalscorer Óttar Magnús Karlsson rattled the woodwork minutes later.
The levee broke in the 75' when Rito streaked down the right wing and blazed a cross through to the path of a sliding Óttar Magnús Karlsson. The Iceman from Iceland bundled the ball home from point blank for his 16th goal of the season, a team record. Karlsson is four goals from league-leading Milan Iloski's mark of 20 on the season.
Seeking an equalizer, the Redbulls pushed on the Roots and Paul Blanchette came out with a sprawling save in the 81' to deny a curling effort. It was New York's only on target shot in the match. The Roots' backline held strong until the final whistle and successfully earned their second consecutive clean sheet.
Oakland travels to Colorado Springs to play the Switchbacks on Saturday, September 24 before returning to Laney College for its last home game of the regular season on October 1st against the Birmingham Legion.
Speaking to Head Coach Noah Delgado
That was a much needed win. What are your takeaways from the match?
"Most importantly, two shutouts in a row. Those little details are huge. Four games to go now and it was great to get three points."
It looked like the first half ended kind of slowly, but you came back much better in the second half. What was the halftime talk like?
"We started off and the boys wanted to get after it right away. You could see their energy and their desire from the beginning. New York got a little hope from us not scoring. Towards the end we re-organized and in the second half I thought we did alright."
You started Charlie Dennis in the midfield again tonight alongside Jose Hernandez. Should we expect to see more from him there and more of that combination going forward?
"Yeah, we're looking at that. We have a lot of tools there. I thought Charlie did well in Phoenix so I wanted to reward him for his performance there. We're playing guys depending on the opponent and how they recover from tonight's game."
Oakland Roots SC vs New York Red Bulls II
USL Championship | September 17, 2022
Venue: Laney College, Oakland, California
Kickoff: 7:00 PM PT
Weather: 63 degrees, cloudy
SCORELINE:    
OAK: 1 
PHX: 0
SCORING SUMMARY:
OAK: 75' Ottar Magnus Karlsson
DISCIPLINE SUMMARY:
NY: 86' Yostin Salinas (yellow card)
OAKLAND ROOTS LINEUP: Paul Blanchette, Danny Barbir, Alejandro Fuenmayor, Tarek Morad, Edgardo Rito, Charlie Dennis (Joseph Nane), Jose Hernandez, Juan Azocar (Memo Diaz,), Lindo Mfeka (Johnny Rodriguez), Darek Formella (Mikael Johnsen), Óttar Magnús Karlsson
Unused subs: Max Ornstil, Jesús Enríquez, Taylor Bailey
Shots: 18 | Shots On Goal: 9 | Corner Kicks: 5 | Fouls: 8 | Offside: 2 |
NEW YORK RED BULLS II LINEUP: Giannis Nikopolidis, O'vonte Mullings (c), Yostin Salinas, Matthew Nocita, Arian Recinos, Jesus Castellano, Nate Worth, Jonathan Filipe, Jordan Adebayo-Smith, Erick Ruiz, Stiven Plaza (John Murphy)
Unused subs: Alan Rutkowski, Davi Alexandre, Lamine Conte, Bento Estrela, Daniel De Leon, Curtis Ofori
Shots: 2 | Shots On Goal: 1 | Corner Kicks: 5 | Fouls: 14 | Offside: 1 |