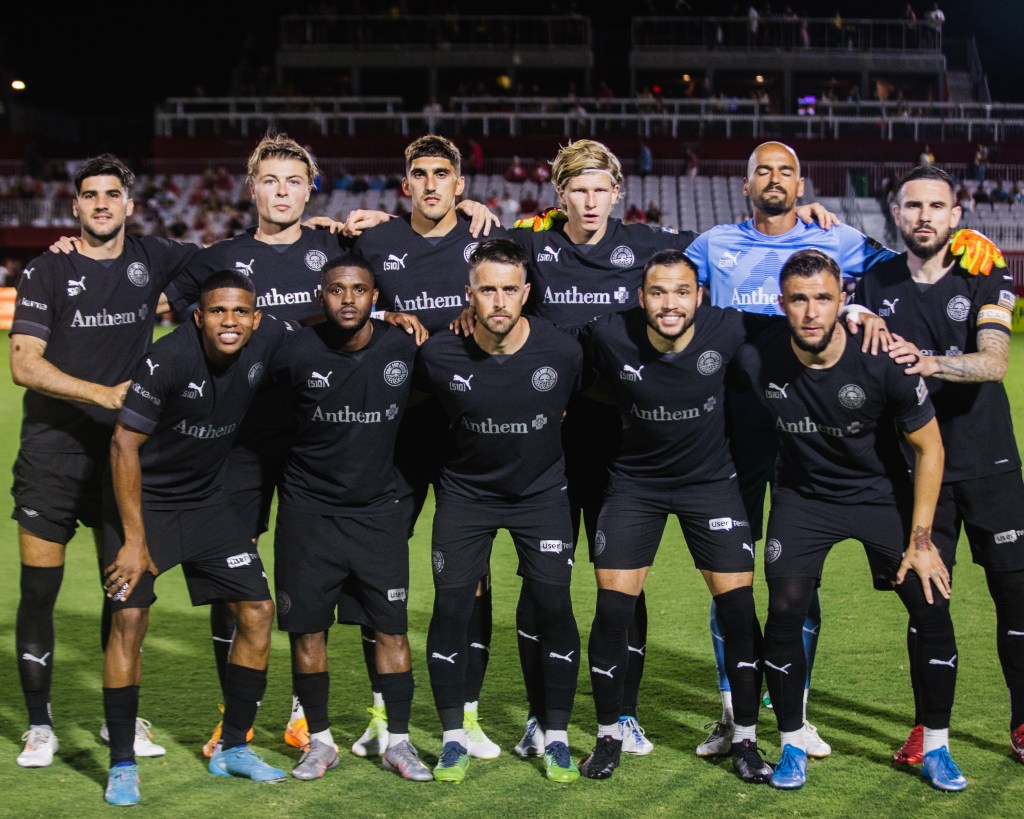 Oakland got on the scoreboard quickly, when Lindo Mfeka cut inside and gave Roots the 1-0 lead in the 5th minute with a curling strike. Phoenix almost conceded to Oakland again within two minutes but Oakland were just unable to find the final ball. Phoenix had their first chance go off the post at the 25 minute mark as Oakland remained in the lead. Oakland responded right away to that chance when Ottar found the perfect pass to Mfeka who doubled Roots lead with a chipped finish and a brace of his own. Oakland continued the momentum through the first half as they went into the break up 2-0.
Phoenix Rising made two changes at the half to change things up and had the pressure on Roots for the first time early in the second half. Santi Moar rattled the crossbar in the 60th minute but Rising were unable to find the back of the net for the first hour of the match. Both teams made changes halfway through the second half as Oakland looked to solidify the lead. Emrah Klimenta went down in the second half as Joseph Nane took over the captain's armband. As the game went deep into stoppage time, Roots made two more changes and still maintained their 2-0 advantage. As the final whistle blew, Oakland took all three points and pulled to within one of the final playoff spot.
Oakland Roots return home next Saturday to Laney College as they host New York Red Bulls II with kickoff at 7:00 PM.
Oakland Roots SC vs Phoenix Rising FC
USL Championship | September 10, 2022
Venue: Phoenix Rising Soccer Complex at White Horse Pass, Chandler, Arizona
Kickoff: 7:30 PM PT
Weather: 91 degrees, cloudy
SCORELINE:
PHX: 0
OAK: 2
SCORING SUMMARY:
OAK: 5' Lindo Mfeka
OAK: 27' Lindo Mfeka
DISCIPLINE SUMMARY:
OAK: 32' Juan Azocar (yellow card)
PHX: 36' Joe Farrell (yellow card)
PHX: 76' James Musa (yellow card)
PHX: 80' Kevon Lambert (yellow card)
PHX: 83' J.J. Williams (yellow card)
OAK: 88' Memo Diaz (yellow card)
OAK: 89' Miakeal Johnson (yellow card)
OAK: 90' Óttar Magnús Karlsson (yellow card)
PHX: 90' Aodhan Quinn (yellow card)
OAK: 90' Charlie Dennis (yellow card)
OAKLAND ROOTS LINEUP: Paul Blanchette, Danny Barbir, Emrah Klimenta (Mikael Johnsen), Alejandro Fuenmayor, Edgardo Rito, Matías Fissore (Joseph Nane), Charlie Dennis, Juan Azocar (Jesús Enríquez), Lindo Mfeka (Memo Diaz), Darek Formella (Johnny Rodriguez), Óttar Magnús Karlsson
Unused subs: Max Ornstil, Taylor Bailey
Shots: 15 | Shots On Goal: 3 | Corner Kicks: 7 | Fouls: 17 | Offside: 2 |
PHOENIX RISING FC LINEUP: Ben Lundt, Marcus Ferkranus (Luis Seijas), James Musa (Haydn Sargis), Joe Farrell, Baboucarr Njie, Joey Calistri, Aodhan Quinn, Kevon Lambert, Santi Moar, Arturo Rodriguez (Jose Donasiyano), Greg Hurst (J.J. Williams)
Unused subs: Delgado, Jawneh, Anguiano
Shots: 14 | Shots On Goal: 1 | Corner Kicks: 3 | Fouls: 13 | Offside: 1 |