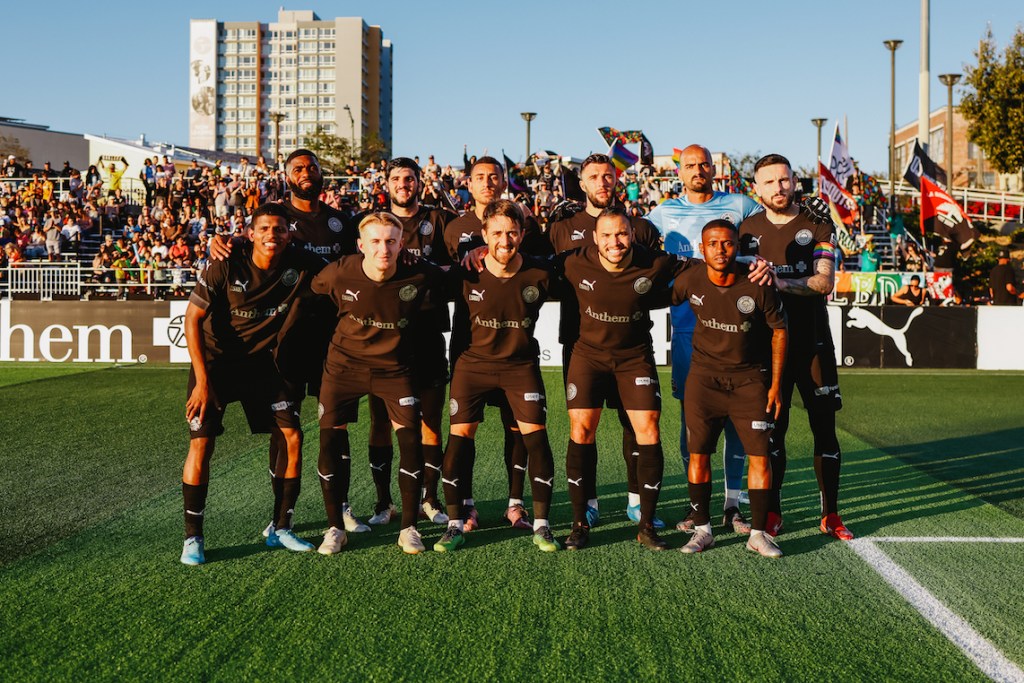 On a balmy Saturday evening in front of a sold out Laney College, Oakland fell 2-0 to San Antonio FC, the league-leaders of the USL. With tonight's result, Roots are four points off of the last playoff spot in the USL western conference. 
The house was packed and brought plenty of energy but it was San Antonio who started off on the front foot early when ex-Ghana international Mohammed Abu played a long ball over the top to ex-Seattle Sounders striker Samuel Adeniran, who controlled and dispatched with relative ease.
The rest of the half was a back-and-forth affair as both team jostled for advantage. Roots best chance of the half fell to Edgardo Rito, who streaked down San Antonio's right flank and fired a shot that was blocked by SAFC's goalkeeper.
Oakland brought hustle in the second half and the ball stayed largely in their attacking end. Ottar Magnus Karlsson, the club's all-time leading goalscorer, brought some much-needed offensive firepower and was the fulcrum of Oakland's attack in SAFC's box.
Roots searched for an equalizer but the league-leaders' defense held strong. Adeniran doubled his tally on the night with five minutes to go to give San Antonio a 2-0 lead.
Roots continue their playoff push on Saturday, September 10, when they travel to Arizona to face the Phoenix Rising. Roots' ex-coach Juan Guerra will be on the touchline coaching the Rising, adding extra weight to the match-up. The Roots return to Laney College on September 17 when they play host to New York Redbulls II.
Hearing from Head Coach Noah Delgado
Initial takeaways from a match against a very good team?
Yeah, the early goal was tough to give up. Fighting back against a team of that quality — they made things difficult. It was tough. We had bits and pieces that worked well, but overall, we want more of a complete performance.
What kind of positives can you take away from the match?
There were moments in the second half when we created a lot of chances and a lot of momentum. We had it at times — they did a good job of blocking shots, putting their body on the line and doing some hard work. I think we could've done a bit better of a job on serving balls and getting on the end of crosses. But there were some chances we had in those moments.
Oakland Roots SC vs San Antonio FC
USL Championship | September 3, 2022
Venue: Laney College, Oakland, California
Kickoff: 7:00 PM PT
Weather: 77 degrees, clear
SCORELINE:    
OAK: 0 
SA: 2
SCORING SUMMARY:
SA:  5' Samuel Adeniran
SA: 85' Samuel Adeniran
DISCIPLINE SUMMARY:
SA: 22' Victor 'PC' Giro (yellow card)
OAK: 23' Lindo Mfeka (yellow card)
SA: 65' Santiago Patiña (yellow card)
SA: 67' Jasser Khmiri (yellow card)
OAKLAND ROOTS LINEUP: Paul Blanchette, Tarek Morad (Memo Diaz), Emrah Klimenta, Alejandro Fuenmayor, Edgardo Rito, Matías Fissore, Joseph Nane (Charlie Dennis), Juan Azocar, Mikael Johnsen (Jesús Enríquez), Lindo Mfeka (Óttar Magnús Karlsson), Darek Formella (Johnny Rodriguez)
Unused subs: Danny Barbir, Taylor Bailey
Shots: 10 | Shots On Goal: 2  | Corner Kicks: 4 | Fouls: 13 | Offside: 1 |
SAN ANTONIO FC LINEUP: Jordan Farr, Mitchell Taintor, Jasser Khmiri, Carter Manley, Connor Maloney, Mohammed Abu, Shannon Gomez, Victor "PC" Giro, Cristian Parano (Nicky Hernandez), Santiago Patiño (Ignacio Bailone), Sam Adeniran (Elliot Collier)
Unused subs: Grant Makela, Jordy Delem, Deshane Beckford
Shots: 16 | Shots On Goal: 9 | Corner Kicks: 4 | Fouls: 17 | Offside: 4 |