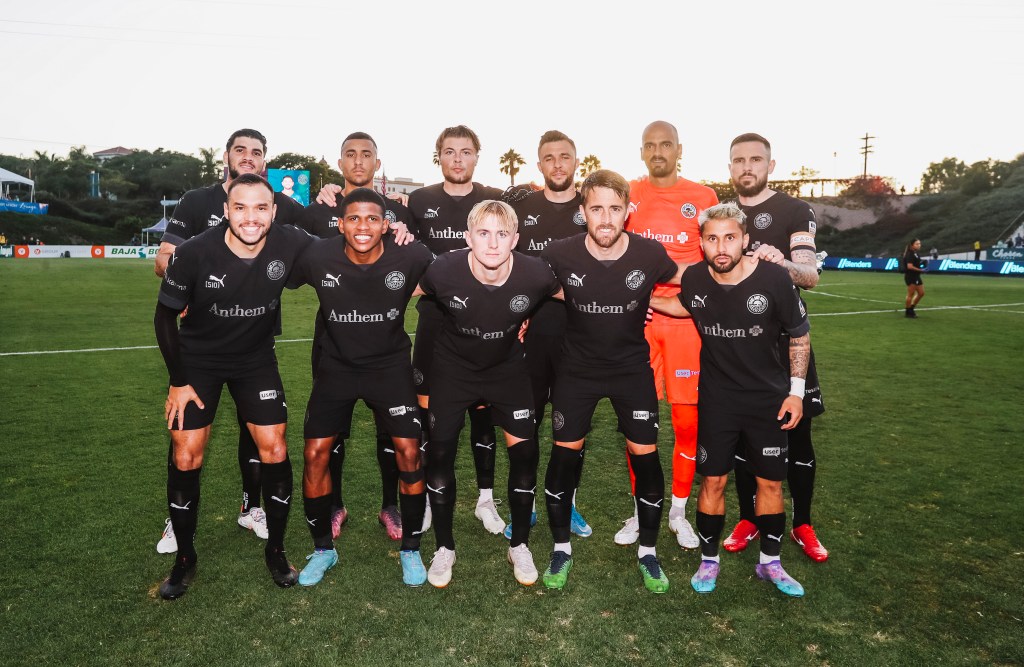 Oakland Roots came out on the front foot early with the press but were unable to create a major chance before San Diego Loyal found their way into the game. Oakland Roots Paul Blanchette was forced into multiple big saves early including the one that led to the rebound for San Diego Loyal to take the lead through Evan Conway in the 24th minute. Oakland Roots quickly responded in the 28th minute when Charlie Dennis sent a long cross field ball to Juan Azocar who collected and finished calmly to level the score at 1-1. Then on his 50th appearance for the Club, Oakland Roots Captain Emrah Klimenta found the back of the net in the 38th minute to give Oakland the 2-1 lead they would take into the half.
The second half saw Oakland Roots Paul Blanchette make more difficult saves to preserve the one goal lead for the visitors. Oakland Roots continued to defend with saves and blocked shots from their defenders taking the counter attack opportunities when they came, as the score remained 2-1 in favor of Roots deep into the game. Finally one of those counter attacks worked as Rito found himself one on one with the goalkeeper from the halfway line and slotted it home to seal the victory for Oakland Roots in the 88th minute. Oakland would hold that 3-1 advantage to take their second road victory of the season.
Oakland Roots are back in action this Saturday as they head to Sacramento to take on Republic on August 27th at 8:00 PM.
Oakland Roots SC at San Diego Loyal SC
USL Championship | August 24, 2022
Venue: Torero Stadium, San Diego, California
Kickoff: 7:00 PM PT
Weather: 74 degrees, partly cloudy
SCORELINE:    
SD: 1  
OAK: 3  
SCORING SUMMARY:
SD: 24' Evan Conway
OAK: 28' Juan Azocar
OAK: 38' Emrah Klimenta
OAK: 88' Edgardo Rito
DISCIPLINE SUMMARY:
SD: 13' Tumi Moshobane (yellow card)
OAK: 44' Emrah Klimenta (yellow card)
SD: 54' Elijah Martin (yellow card)
OAK: Paul Blanchette (yellow card)
SD: 90'+1' Jack Blake (yellow card)
OAKLAND ROOTS LINEUP: Paul Blanchette, Tarek Morad, Emrah Klimenta, Alejandro Fuenmayor, Edgardo Rito, Matías Fissore (Joseph Nane), Jose Hernandez (Danny Barbir), Juan Azocar, Mikael Johnsen (Memo Diaz), Charlie Dennis (Lindo Mfeka), Darek Formella
Unused subs: Johnny Rodriguez, Javier Mariona, Taylor Bailey
Shots: 9 | Shots On Goal: 5 | Corner Kicks: 2 | Fouls: 11 | Offside: 1 |
SAN DIEGO LOYAL SC LINEUP: Koke Vegas, E. Martin (Blake), K. Adams, Stoneman, Moon, C. Adams (Carleton), C. Martin, Guido, Conway (Amang), Moshobane, Vassell
Unused subs: Ferree, Riley, Hackwroth, Metcalf
Shots: 22 | Shots On Goal: 10 | Corner Kicks: 15 | Fouls: 13 | Offside: 1 |