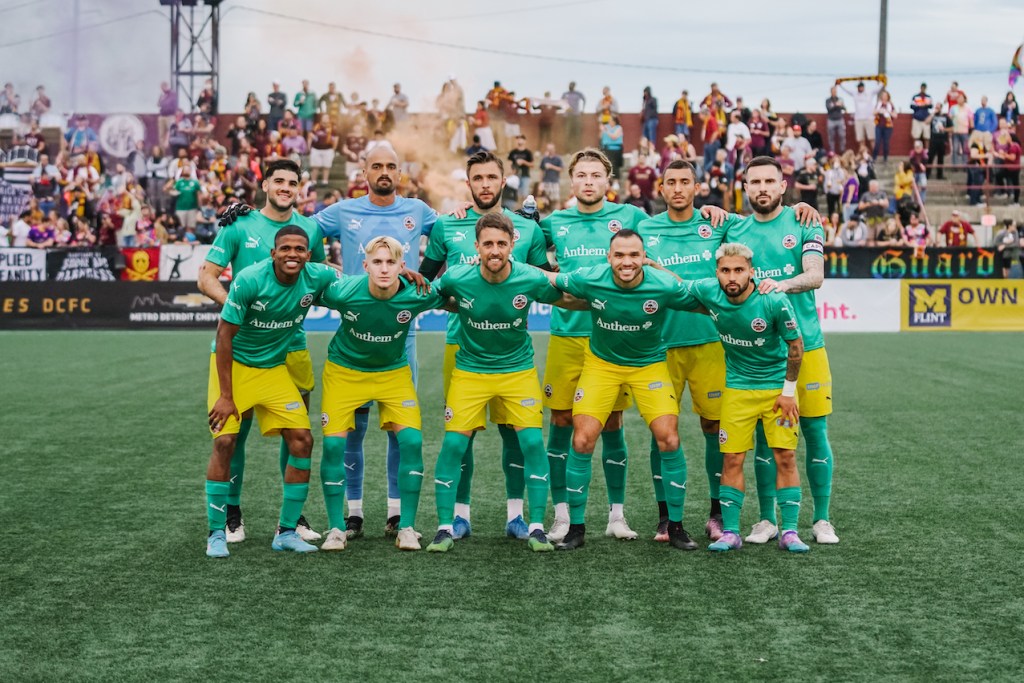 Oakland Roots got off to the better of the two starts as the visitors created double chances twice inside the first 15 minutes. First Charlie Dennis and then Darek Formella were both blocked in the 9th minute then Dennis and Juan Azocar both saw their shots blocked in the 15th. Detroit had some small chances of their own in the first half coming off some sloppy play at the back from Oakland most notably in the 20th minute when Tarek Morad and Alejandro Fuenmayor were caught in two minds, but Detroit were unable to take advantage. As the half came to a close a couple of yellow cards were handed out but the two sides headed to the locker level at 0-0.
Oakland took the lead early in the second half when Charlie Dennis was gifted the ball off a goal kick from Detroit's Nate Steinwacher and happily took advantage of the giveaway to put Oakland in front in the 50th minute. Oakland's defense held strong, not allowing a shot on goal deep into the game. Then in the 88th minute Detroit took their chance on the counter and leveled the match through Francis Atuahene as the renewed rivals split the points in the end.
Oakland Roots are back in action next in 11 days as they travel down to San Diego Loyal on August 24th.
Oakland Roots SC at Detroit City FC
USL Championship | August 13, 2022
Venue: Keyworth Stadium, Hamtramck, Michigan
Kickoff: 4:30 PM PT
Weather: 77 degrees, partly cloudy
SCORELINE:    
DET: 1  
OAK: 1  
SCORING SUMMARY:
OAK: 50' Charlie Dennis
DET: 88' Francis Atuahene
DISCIPLINE SUMMARY:
DET: 40' Antoine Hoppenot (yellow card)
OAK: 40' Jose Hernandez (yellow card)
OAK: 45' Juan Azocar (yellow card)
OAK: 56' Edgardo Rito (yellow card)
OAK: 70' Matías Fissore (yellow card)
DET: 72' Michael Bryant (yellow card)
DET: 90+' Stephen Carroll (yellow card)
OAKLAND ROOTS LINEUP: Paul Blanchette, Tarek Morad, Emrah Klimenta, Alejandro Fuenmayor, Edgardo Rito, Matías Fissore, Jose Hernandez (Joseph Nane), Juan Azocar, Mikael Johnsen (Johnny Rodriguez), Charlie Dennis, Darek Formella
Unused subs: Lindo Mfeka, Danny Barbir, Memo Diaz, Javier Mariona, Taylor Bailey
Shots: 12 | Shots On Goal: 3 | Corner Kicks: 5 | Fouls: 15 | Offside: 0 |
DETROIT CITY FC LINEUP: Nate Steinwacher, Michael Bryant, Stephen Carroll, Matt Lewis, Maxi Rodriguez (Francis Atuahene), Brad Dunwell, Deklan Wynne, Rhys Williams, Connor Rutz, Pato Botella Faz, Antoine Hoppenot
Unused subs: Ryan Shellow, Karl Ouimette, Dominic Gasso, Bosh Tanyi
Shots: 10 | Shots On Goal: 3 | Corner Kicks: 7 | Fouls: 12 | Offside: 3 |