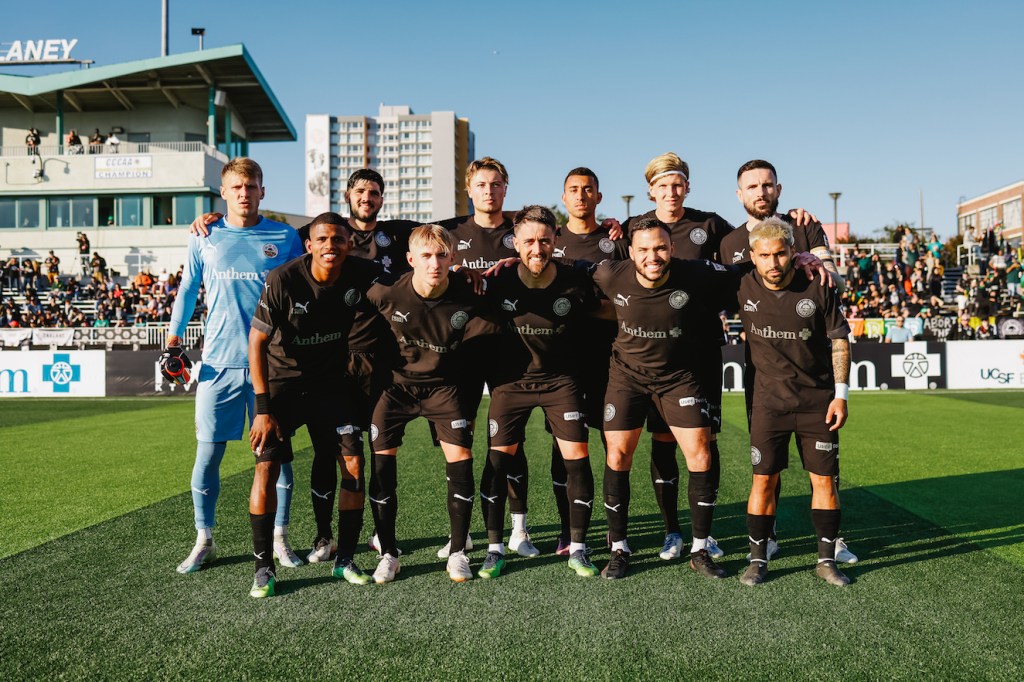 Despite a flurry of dramatic scoring chances throughout the match, Oakland Roots and Phoenix Rising FC failed to score Wednesday night in Oakland, where the game was still deadlocked 0-0 at full time.
These were precious points for both clubs, who currently sit just outside playoff line. Frustration became evident in the final moments as tensions boiled over and a scuffle ensued between the sides, resulting in a red card for Phoenix.
Despite head coach Juan Guerra's absence from the sidelines as he served a one game suspension for receiving a red card in Root's last match, the team still generated high quality offense, putting the ball either just past the post or into the diving hands of the Rising FC net-minder on multiple occasions.
Oakland now heads on an extended road trip, facing Detroit City FC on August 13th. Their next home game will be at Laney College Field on September 3rd vs. San Antonio FC.
Talking to First Assistant Coach Marcos Reina Torres
So how'd you feel about the result of the match?
Well, I think it was a disputed game, I think we had our chances, maybe we could be more precise in the last meters of the attacking third. Because the team makes a good job. We prepare the game as we do all the time, and I think that was well prepared to switch the defensive system to a 4-4-2 formation that usually we play with a back five, also defense. And it was against their 4-3-3 that I think that we wanted to be more in a high pressing situation. I think that we kind of do it well. We played our way, and did it really well. But the last third, and the last play was what was the difference between winning or a tie today.
Taylor Bailey, any thoughts on his performance stepping in tonight?
He did really well. As we know, he was really good with his feet when he was to find the free man in the build up situation. This made it that we could build up better and try to play your way better. And today he helped a lot on these situations and also the situation that he had to save as a goalkeeper. He did it really well.
Oakland Roots SC at Phoenix Rising FC
USL Championship | July 27, 2022
Venue: Laney College, Oakland, California
Kickoff: 7:00 PM PT
Weather: 63 degrees, sunny
SCORELINE:
OAK: 0
PHX: 0
DISCIPLINE SUMMARY:
OAK: 51' Óttar Magnús Karlsson (yellow card)
PHX: 57' Joseph Farrell (yellow card)
OAK: 78' Alejandro Fuenmayor (yellow card)
OAK: 90+3' Memo Diaz (yellow card)
PHX: 90+3' Irakoze Donasiyano (red card)
OAKLAND ROOTS LINEUP: Taylor Bailey, Tarek Morad, Emrah Klimenta(Johnny Rodriguez), Alejandro Fuenmayor, Edgardo Rito, Matías Fissore, Jose Hernandez, Juan Azocar, Mikael Johnsen(Memo Diaz), Charlie Dennis(Darek Formella), Óttar Magnús Karlsson
Unused subs: Ariel Mbumba, Jesús Enríquez, Danny Barbir, Timothy Syrel
Shots: 17 | Shots On Goal: 2 | Corner Kicks: 5 | Fouls: 16 | Offside: 0 |
PHOENIX RISING FC LINEUP: Beu Lundt, Darnell King, James Musa(Luis Seijas), Joseph Farrell, Joseph Calistri, Sivert Haugli, Aodhan Quinn, Irakoze Donasiyano, Santi Moar(Jose Carlos Anguiano), Richmond Antwi(Lamin Jawneh), Greg Hurst(Baboucarr Njie)
Unused subs: Edward Delgado, Channing Chasten, Claudio Repetto
Shots: 12 | Shots On Goal: 7 | Corner Kicks: 4 | Fouls: 12 | Offside: 0 |