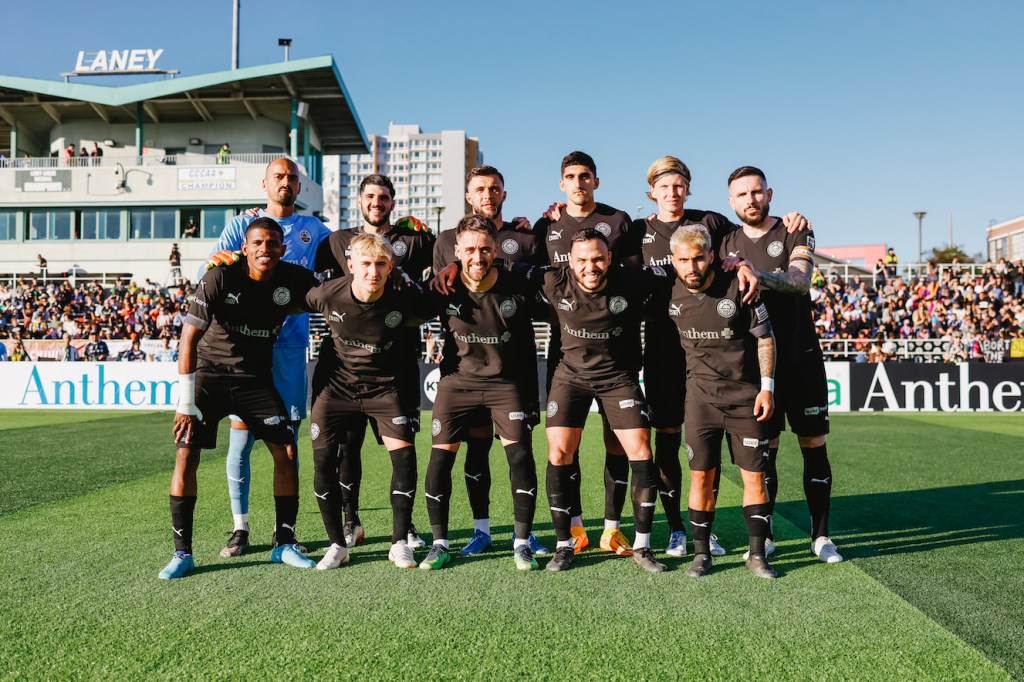 In front of a 3,500+ crowd at Laney College, a 10-man Oakland Roots squad fell 2-0 to the Las Vegas Lights on Saturday night.
Roots probed against the Lights' defense early and often. Winger Edgardo Rito was particularly dangerous, but the best chance of the half went to Darek Formella, who had a full volley saved by the Lights keeper in the 24th minute.
Roots made it an uphill battle in the 43rd minute when goalkeeper Paul Blanchette took down streaking Lights forward Caleb Jennings, and received a red card for the infraction. Roots coach Juan Guerra also received a red card in the moments after the red card was given to Blanchette.
Momentum shifted slightly in the Lights' favor with its man-up advantage, but Roots' defense held until the 53rd minute when forward Caleb Jennings found strike partner Daniel Trejo with a cross field pass, and the former Cal State Northridge forward buried the finish.
Twenty minutes later, the Lights doubled their lead when center back Tony Leone scored a header on the far post.
Oakland pushed on, but couldn't find an answer against Las Vegas. Roots continue their playoff push at Laney College on Wednesday night, when they face Phoenix Rising FC.
Talking to First Assistant Coach Marcos Reina Torres
What are your thoughts on how the red card affected the match?
Yeah, it was another good game from the team when it was 11 vs. 11. But the red card changed everything — we had to defend and we didn't defend until they scored one. At 0-0, you can still be alive and then you can try and fight for at least a tie or a goal.
It was difficult to manage. We switched to a 3-4-2 formation to press more, and it kind of worked because we were playing near their goal. Not the way we like to play, but a way that allowed us to be near their goal.
Heading into Wednesday without Juan at the helm, what do you do to prepare?
We will prepare for it as usual. Juan will be there at training so he will train us well — at the game he won't be there, but we'll prepare the way we normally do, for an 11 vs. 11 game and we'll get a result.
Oakland Roots SC at Las Vegas Lights FC
USL Championship | July 23, 2022
Venue: Laney College, Oakland, California
Kickoff: 7:00 PM PT
Weather: 67 degrees, sunny
SCORELINE:    
OAK: 0  
LV: 2    
SCORING SUMMARY:
LV: 53' Daniel Trejo
LV: 73' Tony Leone

DISCIPLINE SUMMARY:
OAK: 43' Paul Blanchette (red card)
OAK: 44' Juan Guerra (red card)
OAK: 65' Jose Hernandez (yellow card)
OAK: 79' Alejandro Fuenmayor (yellow card)
LV: 81' Alejandro Lara (yellow card)
LV: 81' Jorge Almaguer (yellow card)
OAKLAND ROOTS LINEUP: Paul Blanchette, Danny Barbir (Johnny Rodriguez), Emrah Klimenta, Alejandro Fuenmayor, Edgardo Rito (Memo Diaz), Matías Fissore (Tarek Morad), José Hernández, Juan Azocar, Mikael Johnsen (Taylor Bailey), Darek Formella (Charlie Dennis), Óttar Magnús Karlsson
Unused subs: Ariel Mbumba, Jesús Enríquez
Shots: 11 | Shots On Goal: 4 | Corner Kicks: 5 | Fouls: 7 | Offside: 0 |
LAS VEGAS LIGHTS LINEUP: Abraham Romero, Mohamed Traore, Alejandro Lara, Morten Bjørshol, Tony Leone, Alvaro Quezada, Daniel Crisostomo (c), Frank Daroma (Christopher Jaime), Daron Iskenderian (Jorge Almaguer), Daniel Trejo (Nathan Ordaz), Caleb Jennings (Dekel Keinan)
Unused subs: Tomas Romero, Chase Bromstedt, Christian Torres,
Shots: 11 | Shots On Goal: 5 | Corner Kicks: 5 | Fouls: 9 | Offside: 5 |